Why Is Google's New "Helpful Content Update" so important?
September 13, 2022
Does my website have to be secure for SEO?
October 7, 2022
Developing a digital marketing channel strategy is due your careful consideration. While there are numerous benefits to diversifying your revenue streams, there are also some important things to consider when selecting and shaping your business channel. For example, diversifying your sources can help you reach more customers. But if your business relies on one source for most of its revenue, it may not be the best idea to exclusively use this channel. Broaden your channels while also growing them to carry their own weight.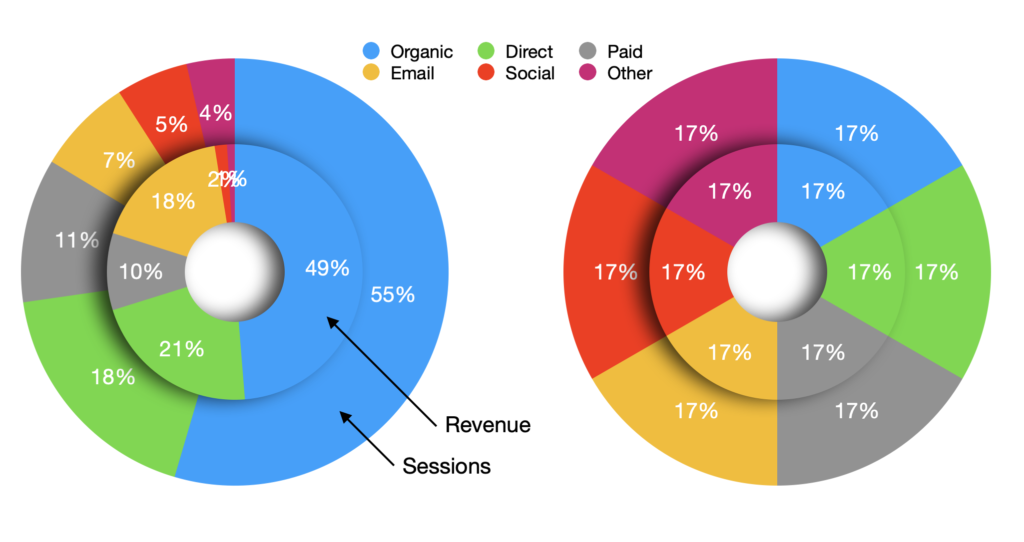 Source of your digital customers matters
When it comes to digital marketing, the source of customers is an important factor for success. According to recent research, consumers are spending an average of 11 hours a day on electronic media. In fact, 56% of every dollar spent in stores is now influenced by digital transactions. This has led to a rise in the overall lifetime value of a customer.
Diversifying your digital sources matters
For successful marketing strategies, businesses need to diversify their sources. This means incorporating more than one marketing channel to reach a wider audience. By diversifying your sources, you'll have access to more leads, targeted audiences, and sales. Businesses that use only one channel are missing out on bigger business potentials.
However, diversifying your channels can be difficult. Managing multiple marketplaces is a logistical nightmare. You have to monitor the sales on each channel, manage your listings, and deal with various situations that arise. This manual work is done on documents and spreadsheets, making channel diversification difficult to track and manage. Fortunately, software platforms are available to simplify this process and help business owners manage their channels with ease.
Moreover, channel diversification helps mitigate risks. While some channels may produce more sales than others, the fact remains that the majority of modern buyers research products online before making a purchase. For instance, 35% of consumers begin their research process with a search on Google. Unless you want to lose your customers, diversifying the sources you use is crucial.
Diversifying the sources of your marketing efforts is critical to achieving your marketing objectives. It helps smooth the path of growth by smoothing out the ups and downs. It also helps you test different marketing strategies to see which ones work best.
Balancing your digital sources of revenue matters
It is essential to balance the revenue in your digital marketing channel strategy. The key is to understand the nature of your business and the distribution channels you need to use to reach your target customers. You need to ensure you have the right mix between direct bookings and paid ads. Paying for ads on social media and metasearch sites will not only help you improve brand awareness but should also increase sales. Though, this also increases your costs, which is why you should analyze your options carefully and make your decisions deliberately and with care given to sustainability and profitability.
Risk mitigation of your digital channels
Developing and managing strong relationships with customers is an important part of risk mitigation in digital marketing. A sales team plays a crucial role in this process. Customers want to feel important and part of a partnership, and a sales team should be able to make them feel that way. This is why it is critical to create a strategy to ensure that your customers are satisfied with your services.
The world of digital marketing comes with new threats and challenges, and firms need to create realistic risk mitigation policies and programs to protect themselves. Many companies have not updated their digital marketing risk management systems in years. Manual risk management processes are time-consuming, require repetitive review across multiple departments, and are prone to human error.
The process of risk mitigation starts with conducting a thorough risk assessment. A proper risk assessment identifies any factors that could cause problems for a marketing campaign. It can include issues such as competitive pricing, weather trends, and more. Risk management can help streamline these processes and simplify risk management. By leveraging a two-way process, a marketing team can develop a strategy for digital marketing and manage risks.
The use of SEM and SEO tools is essential to successful marketing through digital channels. However, using SEM and SEO tools incorrectly can expose a firm to multiple risks. For instance, SEM involves paying for advertisements that appear on search engines. These advertisements can lead to false or exaggerated messages that are detrimental to a firm. The correct use of these tools can reduce or eliminate the risk altogether.
Recovery and rebalancing of channels
The Asia-Pacific region has been hit particularly hard by the global economic downturn, and a recent report by Euromonitor suggested that retail sales in the region could grow at the fastest pace by 2020. This is a huge opportunity for companies to focus more locally on growth and partnership opportunities while still being able to tap into broader markets. Traditional family businesses and small/medium enterprises have historically focused on their home markets.
We're often reminded by real world channel crashes: When search engines or social media platforms change their algorithms entire categories can be thrown to the wayside. Over reliance on any channel leaves a business susceptible to things beyond their control. Perhaps the only channel somewhat immune to this phenomenon is Email. Your email list is always your email list. By tend to that list, growing it, and by always providing value you'll ensure at least one channel is inoculated from the worst of penalties. Fish where your fish are. Broaden your horizons and diversify.
Disclosure: The blog above was largely written by an AI (in this case, Article Forge) as part of an ongoing SEO ranking test. Would you like to review other articles written by artificial intelligence?