The State of Marketing Automation Via Artificial Intelligence in 2022
April 17, 2022
My AI Wrote 36,000+ Words On The Topic Of Digital Marketing.
July 1, 2022
When it comes to maximizing ROI of your digital marketing strategy, it's imperative that you monitor analytics. Digital marketing analytics should be focused on the buyer's journey – the process by which visitors become evangelists and customers. In other words, analytics should help you measure ROI. Avoid vanity metrics, which can divert you from the goal of your business. If you don't understand how to use analytics to drive ROI, don't worry – we'll walk you through some of them!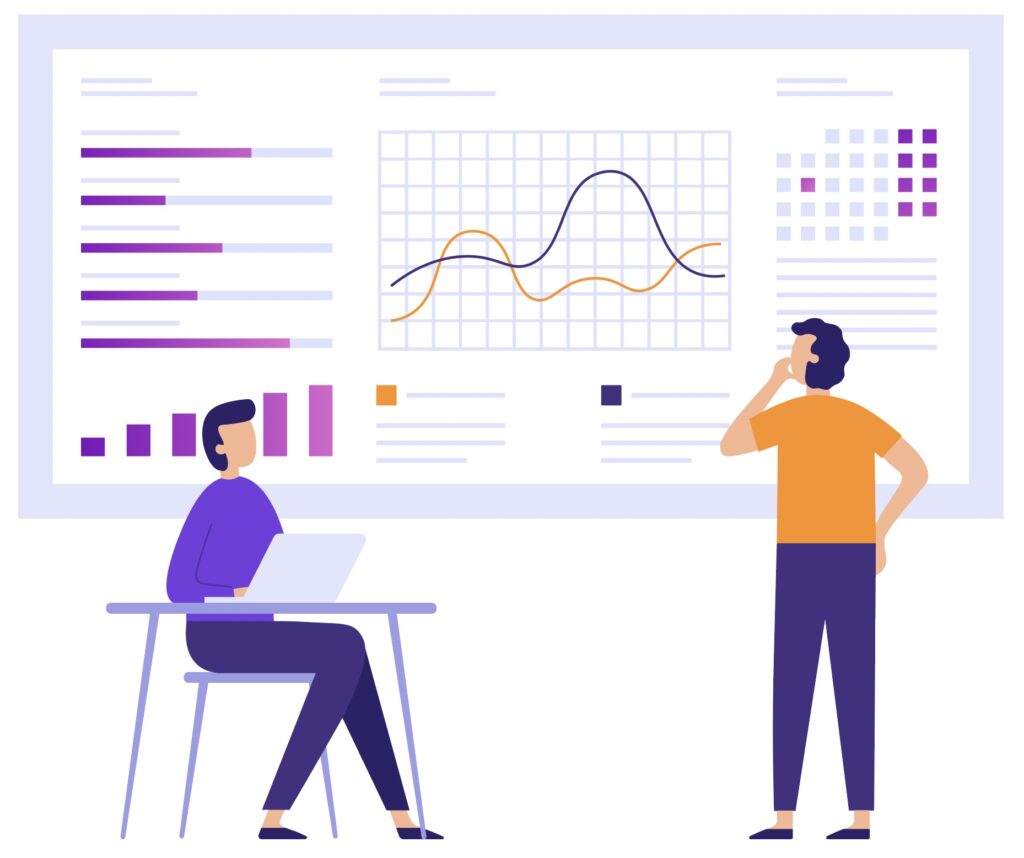 Data provides insights into your target audience
With the use of data in digital marketing, you can refine your communication with your target audience. Having insights into what your audience is interested in will help you improve your marketing efforts and ultimately boost your bottom line. In digital marketing, data is available from a variety of sources, including social media and mobile devices. Data provides insight into what your audience searches for on various channels, which will help you develop campaigns and promotions.
Demographics: Understanding your audience's general demographics can help you tailor your marketing message. You can tailor your advertising to this particular demographic by tracking website activity and customer behavior. Depending on the type of product or service you offer, demographics can help you target potential customers with the right offers and promotions. This helps you target products and services to specific demographics, which will help you turn visitors into customers.
You can also get insights into your target audience by using Google Analytics. You can view demographic data like the age range of your audience, gender, and interest categories. You can even see if they're logged in from different countries or specific states. All of these insights can help you better target your content and advertising. When implementing new strategies, you should analyze your audience to see what works and what doesn't.
When used correctly, audience insights can help you design smarter campaigns. Big data can also help you identify new lookalike audiences and weed out those who don't. Ultimately, data provides insights into your target audience in digital marketing. It helps you optimize your marketing strategies and overcome any obstacles you encounter. There's no better time than now to start gathering data and improve your marketing strategy. But don't forget the power of data!
Predictive analytics helps you make data-driven decisions
With predictive analytics, you can make data-driven decisions based on current and historical data. The results of these analyses can be used to determine the likelihood of certain outcomes, including customer churn. Using predictive analytics, you can segment your audience by firmographics, interests, and variables to make data-driven marketing decisions. Using this type of analytics can help you identify which audiences are most likely to buy or unsubscribe, and which ones are less likely to.
Predictive analytics in digital marketing can also help you identify customers who are likely to buy a particular product. You can use this type of information to create email campaigns that target specific segments. For example, if you sell shaving products, predictive analytics can help you know when customers are likely to reorder their favorite product. Using this type of information, you can target your customers more effectively by offering them similar products in the same category.
The use of predictive analytics in digital marketing is growing in popularity as an effective way to improve marketing efficiency. It can help you improve your customer's experience by making personalized offers, upselling, cross-selling, and retention opportunities. It can also help you optimize your email and social media campaigns by informing them with relevant propositions. This type of data can help you make more informed decisions and increase your revenue.
With the emergence of new technologies, predictive analytics can help you to make data-driven decisions on the basis of historical data. For example, it can help you identify a weakening customer engagement and deploy loyalty campaigns to boost their engagement. This is particularly useful for subscription-based businesses such as subscription-based services and online retailers. Ultimately, predictive analytics is accessible to all businesses, including small and medium-sized enterprises.
It's critical for a successful digital marketing strategy to identify market trends and understand the needs of the customer. Using predictive analytics can help you correlate past and current customer behaviors and nurture those leads into sales. Predictive analytics can help you take action ahead of time. It also can help you leverage market trends and make data-driven decisions that are based on a holistic understanding of the customers.
Data sources
Analyzing customer behavior and preferences can be a challenging task, but data sources for analytics are essential to creating a comprehensive customer profile and guiding ongoing marketing tactics. Big data is the lifeblood of analytics, and the average marketer has data scattered across 17 different applications and tools. Accessing combined data from multiple sources in one central location is the key to success, enabling marketers to build powerful models and clear reports. But how can you use data to your advantage?
Companies are increasingly realizing the value of data and using it to fuel their sales pipelines. For example, 42% of B2B marketing professionals say that the greatest obstacle to lead generation is a lack of quality data. Further, 24% of these marketers don't even know whether their marketing efforts have resulted in a closed sale. Introducing your team to these data sources is an essential part of defining your strategic marketing strategy.
Analyzing data can help your organization make better decisions about which digital channels, marketing messages, and social media networks to use. The data analytics can also answer key questions about marketing, sales, message resonance, and competition. These insights can help you make better decisions about where to place your marketing resources to gain the best results. In addition, it can help you determine where to target your most valuable customers and which strategies are generating the most profit.
The importance of data collection cannot be stressed enough. Regardless of the size of your company, analyzing data is essential to developing a successful marketing strategy. Without data, the results will be useless. However, using data is vital to marketing – not only for improving your brand image, but also to improve productivity. Companies can use data analytics to create tailored campaigns that meet the needs of different groups. These tools can also be used to identify churn and improve the value of existing customers.
Benefits
Data analysis helps marketers determine which marketing channels and messages work best. This data also helps marketers identify trends and predict future behaviors. Ultimately, data analysis helps digital marketers create better advertising campaigns. Here are some of the benefits of data analytics in digital marketing. Using data to improve your marketing campaigns will increase your bottom line profit. But how do you use data analysis to get started? Here are three reasons why you should. To understand how data analytics improves your marketing campaign, read on.
Data analytics helps marketers create better customer profiles. When combined with website data, analytics can show which ad brought in the customer or which product they bought. This information can help marketers align their marketing efforts with their products' performance. For example, analytics can help music streaming companies understand friction points in the onboarding process. They can improve their content and make their user experience easier. Finally, analytics helps marketers understand how to increase engagement and boost customer satisfaction.
Analytical data is the bedrock on which digital marketing strategies rest. It helps marketers determine which channels are working best and which are not. It also helps them identify what type of content works best and which ones don't. Data analysis allows businesses to develop more effective marketing strategies and grow faster. When done properly, analytics will boost your profits and increase your customer satisfaction. For these reasons, analytics is a powerful tool in digital marketing.
Using data analytics can help marketers identify the most profitable customers. With this information, they can optimize each marketing channel to increase customer loyalty. This is the ultimate goal for digital marketers. With data-backed insights, marketers can make better marketing decisions and improve their bottom line. Analytics also gives marketers the visibility they need to stay focused on the moment of truth. So, when using analytics in digital marketing, you can see how it benefits your business.
Disclosure: The blog above was written entirely by an AI (in this case, the Article Forge) as an SEO ranking test. Would you like to review other articles written by artificial intelligence?